Click ☰ above for more options ↑
Eucharistic Congress Bell visits Ballinteer Parish


The Eucharistic Congress Bell visited the Pastoral Area of Dundrum, Ballinteer, Meadowbrook and Marley Grange. The Bell came to Ballinteer Parish on Wednesday 14th September 2011. Take a few minutes to look at some photos of this memorable occasion in Ballinteer Parish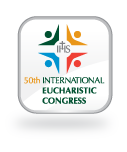 Pope Benedict XVI rings the same Bell which our parishioners rang when it visited our Church in September 2011.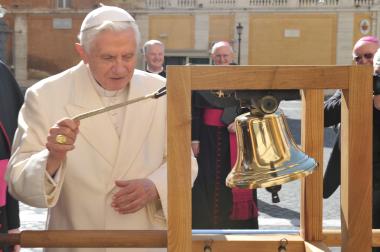 Pope Benedict XVI received the International Eucharistic Congress Bell in Rome on 14th March'12. He blessed and rang the Bell as part of preparations for the upcoming 50th International Eucharistic Congress 2012 (IEC2012), calling people from across the world to Dublin for the Congress, which takes place from 10-17 June.

The Bell was presented by a delegation headed by the President of IEC2012, Archbishop Diarmuid Martin, accompanied by Secretary General of IEC2012, Fr Kevin Doran, and members of IEC2012 staff during a papal audience. "Pope Benedict XVI blessed the bell, rang it vigorously, and paused to admire the icons as Archbishop Martin explained their significance", explained Fr. Kevin Doran.

The Eucharistic Congress Bell

The original St Patrick's Bell & Shrine


The original St Patrick's Bell & Shrine may be seen in the National Museum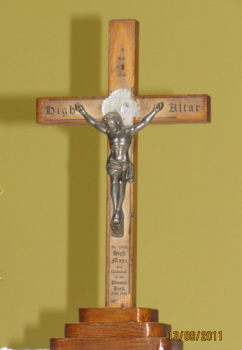 This is the actual cross that was on the High Altar during the Eucharistic Congress in the Phoenix Park in 1932.
The Cross has been in the family of one of our parishioners since that time and permission was very kindly given to display it with the Eucharistic Congress Bell in our parish Church.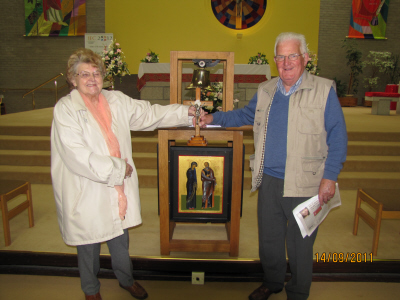 Maura Marsh & Brendan Egan who were both born in 1932 the year of the last Eucharistic Congress in Ireland

More photos of the Eucharistic Congress Bell in Ballinteer Parish