Bishop Stephen Dami Mamza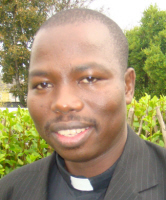 Bishop Stephen Dami Mamza

Congratulations to Bishop Stephen
"Many congratulations to Bishop Stephen who was with us in Ballinteer Parish from September 2010 until 2nd March 2011 and who also helped out in Meadowbrook Parish. On Friday the 18th February 2011 at 11 am (12 noon in Rome) it was announced that Fr Stephen, as he was at that time, was to be Bishop of the Diocese of Yola, Nigeria. Monsignor Stephen, as we then called him, was ordained Bishop of Yola on 7th April 2011 in Yola Cathedral.
Fr Richard Behan, VF, Moderator & Fr Kieran McDermott, Co P.P. Dundrum represented the Archdiocese of Dublin at the ceremony.

Sadly, it meant we had to say farewell to him as he begins a new chapter in his life as Bishop. We thank him for his many kindnesses and support that he gave while here in the parish. We wish him every blessing and happiness in his new appointment which will be challenging. However, we have all witnessed his great qualities of prayer and serenity, matched with a thirst to spread the Good News of the Kingdom of God. I cannot count the number of people who have said to me "he will be a Bishop some day". Now that day has arrived and I am sure that he will make a great Bishop. Please keep him in your prayers and all of his family at this time."
Fr Richard Behan

Bishop Stephen's appointment required him to return on 2nd March 2011 for his ordination as Bishop in Yola Cathedral on 7th April 2011. Yola diocese is larger than Ireland and is served by 90 priests. Bishop Stephen expects to be back to see us in October 2011 when he will be conferred with a Masters Degree in Human Development. He will remember you all in his prayers and asks that you pray for him as he takes up his new and challenging assignment.
Fr. Stephen (as he was at the time) in the Parish Office sharing his good news with his Mother in Nigeria.
Fr. Richard with Fr. Stephen celebrating the good news.
Click here to see some photos of Fr Stephen and friends celebrating his appointment.
Click here to read the Vatican appointment of the Bishop of Yola, Nigeria.
---