Eucharistic Adoration in the Oratory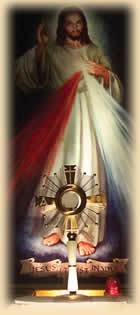 THE REAL PRESENCE: CHRIST IN THE EUCHARIST
An Invitation from Jesus to spend one hour per week with him in Eucharistic Adoration.

Adoration times are as follows:
Monday 7:00 p.m. to 8:00 p.m.
Tuesday, Wednesday, Thursday & Friday: After 9.30 a.m. Mass until 1.00 p.m.

In addition to this we will have Benediction service after the 9.30 a.m. Mass on the First Friday of each month.


Come along between any of the above times and spend just one hour in the presence of Jesus.

For those who would like to have adoration in the afternoon, it is available in Meadowbrook from 3:00 to 6:00 p.m. Monday to Friday.


I am the bread of life. No one who comes to me will ever hunger; no one who believes in me will ever thirst.
Everyone is very welcome
---