Parish Pastoral Council
Would you like to join us? - An invitation from the Parish Pastoral Council (PPC) - April 2019
The PPC works with Fr Liam and Deacon Noel to build our parish as a living Christian community committed to sharing the Good News. We wish to extend and renew PPC membership, ensuring good representation of the whole parish. We are therefore inviting each parishioner and parish group to reflect over Lent and Easter on their baptismal calling and to pray and encourage people to share their talents and giftedness with the PPC. During Pentecost, we shall be inviting expressions of interest to join the PPC, which meets 9 times a year for 1 to 2 hours. The PPC's responsibilities include:


Discerning the pastoral and spiritual needs of the parish community and involving the whole parish in response to these needs. To this end, we met all parish groups, held a parish assembly and produced a report that serves as a call to action.


Supporting parishioners in living their baptismal call as followers of Christ. "A Christian community which has a living sense of being a baptised people will be a more attractive witness to others." (Archbishop Martin). He hopes that this Lent "will be a time for many of us to reconnect with our own baptism and to reawaken its power."


Supporting structures that bring together the pastoral and spiritual needs of the parish with the talents of parishioners and the resources in the parish. For example, Morning Prayer, Adoration, the Family Mass, Sacramental programmes and Lenten Scripture Talks nurture our faith and serve the mission of Christ.


Ensuring effective dialogue takes place within the parish and Pastoral Area. For example, a new version of the website went live in November 2018, and attracts 16,000 visits a year. Recent Child Safeguarding information sessions for the Pastoral Area attracted 200 people.


Reviewing annually the contribution the PPC is making in the life of the parish and inviting the parish community to reflect on that contribution. The PPC is currently reflecting on its role, responsibilities and membership. We seek to be a representative body reflecting the diversity of our parish community and a means whereby all parishioners can take part in discussions that relate to the spiritual and pastoral development of our parish.


---
Report of PPC consultation with parish groups. (PDF)
Report of the 2017 Parish Assembly. (PDF)
Members of the Parish Pastoral Council - July 2018
Fr Liam Belton, P.P., Moderator, President.

Deacon Noel Ryan,

Brendan Lane, Chairperson.

Mary Golden, Secretary.

Catherine Byrne, Child Safeguarding Officer.

Valerie Burke,

Brenda Doherty,

Ann Martin,

Robert Moore,

Jim O'Dea,

Hilda O'Shea,

Sinéad Walsh.

See photos of PPC members here.
Purpose of the Parish Pastoral Council
The purpose of the Parish Pastoral Council is to assist the Parish Priest in the administration of the pastoral aspects of parish life.
The Parish Pastoral Council is consultative. Its areas of concern include:

The Promotion of Christian life in the Parish.

Supporting and collaborating with existing Groups.

Planning for future needs.

Listening carefully to the needs of the people of the Parish.

Communicating well with the Parish.

Parish Mission Statement
" I call you friends, because I have made known to you everything I have learned from my Father.
You did not choose me, no, I chose you; and I commissioned you to go out and to bear my fruit,
fruit that will last; and then the Father will give you anything you ask him in my name.
My command to you is to love one another."
Gospel of St. John the Evangelist Ch 15 Vs 15-17
Inspired by these words in the Gospel of St. John the Evangelist, Patron Saint of our Parish in Ballinteer, we strive to follow Jesus by:
Building a community which gives expression to our faith in Jesus where each person feels welcomed, accepted and valued in their own right.
Promoting a greater sense of togetherness and participation as we gather in our Church.
Spreading this togetherness in church out into our Parish Community in a way that is inclusive and all-embracing.
---
Click here to see the gift to our Parish Pastoral Council by Pope Tawadros 11 of the Coptic Orthodox Church. (PDF)
---
Parish Pastoral Council Constitution
Click here, or on the Eagle below, which is the symbol of St. John's Gospel, to read the Parish Pastoral Council Constitution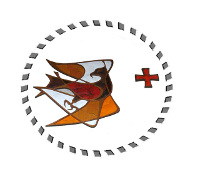 You can also click below to see the pdf version the Parish Pastoral Council Constitution.
Parish Pastoral Council Constitution (pdf)

Copies of the Parish Pastoral Council Constitution, as approved by Archbishop Diarmuid Martin, can also be obtained from the Parish Office.
---
Contact the Parish Pastoral Council
If any parishioners wish to contact the Parish Pastoral Council please write to Ms Mary Golden, Secretary, PPC, c/o The Parish Office or e_mail to : ballinteeroffice@gmail.com