Parish Pastoral Council
Ballinteer Parish Pastoral Council (PPC) - New Members required!

Invitation to a Morning of Prayer and Reflection

Saturday morning 18th January from 11:00 a.m. to 1:00 p.m.

Our Lady's School Hall
The Parish Pastoral Council invites all parishioners to a meeting on Saturday morning 18th January from 11:00 a.m. to 1:00 p.m. to explain the Parish Council's role, hear your ideas for our parish, and take nominations for new members. You are invited to pray for new members, and to consider sharing your time, talent and faith experience by joining the Parish Council.

Together we can bear much fruit!


Nomination form for new PPC members (PDF)
Pastoral Life in a Parish - presentation (PDF)
Parish Pastoral Council Report 2019 (PDF)
Ballinteer Parish Pastoral Council Renewal.
The Archbishop wants each parish to have a parish pastoral council to enable priests and people to work closely together in bringing the Good News of Jesus Christ alive in our parishes.

Our Council currently has 12 members. It meets once a month, 8 or 9 times a year, for 2 hours. It works in partnership with Fr Liam discerning and planning our needs and priorities as a parish.

Five members are due to step down shortly. The rules only allow you to stay so long. Every leadership group needs new people and talent, energy and enthusiasm to remain effective. So, opportunity knocks!

The Council will hold an information evening early in the New Year. A leaflet explaining the role and responsibilities of a parish pastoral council is available in the church and below on this page.

We invite you to consider joining the Council. Our invitation includes those of you who are new to the parish, or who are from overseas, or who live outside the parish boundary. One of our members is from Spain.

The Council values your faith and life experiences, your insights, ideas and inspirations. We know of course that the harvest is great but the labourers are few. However, this is a vibrant parish with many active groups, where the Joy of the Gospel and fruits of the Spirit are clearly visible.

As we prepare our hearts, minds and souls for the coming of Jesus at Christmas, please join us in prayer that new people will be willing to join the Council in the New Year. Reflect on your own life and faith experience. Consider putting your name forward. Come along to the information evening in the New Year to learn more about what we do, and to share your ideas and suggestions. Read the report of the Parish Assembly on the parish website. Through faith and prayer, together we can bear much fruit.

Reflect on the words of the poet Robert Frost, "Two roads divided in a wood, and I, I took the one less travelled by and that has made all the difference."


---
Report of 2017 PPC consultation with parish groups. (PDF)
Report of the 2017 Parish Assembly. (PDF)
Members of the Parish Pastoral Council - Autumn 2019
Fr Liam Belton, P.P., Moderator, President.

Deacon Noel Ryan,

Brendan Lane, Chairperson.

Mary Golden, Secretary.

Catherine Byrne, Child Safeguarding Officer.

Valerie Burke,

Brenda Doherty,

Ann Martin,

Robert Moore,

Jim O'Dea,

Hilda O'Shea,

Carlos Fidalgo.

See photos of PPC members here.
Purpose of the Parish Pastoral Council
The purpose of the Parish Pastoral Council is to assist the Parish Priest in the administration of the pastoral aspects of parish life.
The Parish Pastoral Council is consultative. Its areas of concern include:

The Promotion of Christian life in the Parish.

Supporting and collaborating with existing Groups.

Planning for future needs.

Listening carefully to the needs of the people of the Parish.

Communicating well with the Parish.

Parish Mission Statement
" I call you friends, because I have made known to you everything I have learned from my Father.
You did not choose me, no, I chose you; and I commissioned you to go out and to bear my fruit,
fruit that will last; and then the Father will give you anything you ask him in my name.
My command to you is to love one another."
Gospel of St. John the Evangelist Ch 15 Vs 15-17
Inspired by these words in the Gospel of St. John the Evangelist, Patron Saint of our Parish in Ballinteer, we strive to follow Jesus by:
Building a community which gives expression to our faith in Jesus where each person feels welcomed, accepted and valued in their own right.
Promoting a greater sense of togetherness and participation as we gather in our Church.
Spreading this togetherness in church out into our Parish Community in a way that is inclusive and all-embracing.
---
Gift to our Parish Pastoral Council by Pope Tawadros 11 of the Coptic Orthodox Church (PDF).
---
Parish Pastoral Council Constitution
Parish Pastoral Council Constitution
Parish Pastoral Council Constitution (PDF version)

The Eagle is the symbol of St. John's Gospel.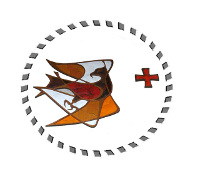 Copies of the Parish Pastoral Council Constitution, as approved by Archbishop Diarmuid Martin, can also be obtained from the Parish Office.
---
Contact the Parish Pastoral Council
If any parishioners wish to contact the Parish Pastoral Council please write to Ms Mary Golden, Secretary, PPC, c/o The Parish Office or e-mail to : ballinteeroffice@gmail.com