Our Lady of Lourdes Grotto


In 2008 we celebrated 150 years since the apparitions of Our Lady at Lourdes, France.

There have been pilgrims and arranged pilgrimages to Lourdes from Ballinteer since the beginning of the parish (1973). The early pilgrimages were under the spiritual direction of the late Fr. Michael Loftus.

The Grotto was blessed by Monsignor Dan O'Connor on the 8th December 2008 after the 7.30 p.m. Mass to celebrate the 150th Anniversary of the apparitions of Our Lady at Lourdes

Dedicated to the memory of Fr Michael Loftus 1938 - 2007 and in remembrance of all the deceased members of our parish who organised and participated in Lourdes pilgrimages over the years.
Ar dheis Dé go raibh a n-anamacha.

Fr Loftus served in our Parish between 1969- 1979, during which time he had responsibility for the building of the Church & Schools.
Ar dheis Dé go raibh a ainm.

If you would like to contribute towards this shrine, please leave any donations into the Sacristy or the Parish Office.
Photos from Blessing of Lourdes Grotto


Some fond memories of the Mass and Blessing of the Lourdes Grotto on the Feast of the Immaculate Conception, 8th December 2008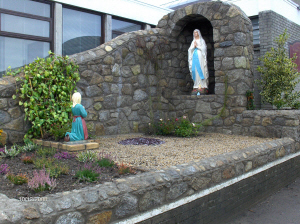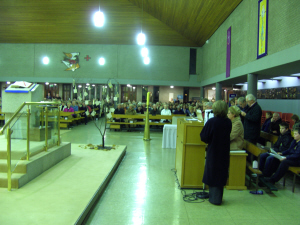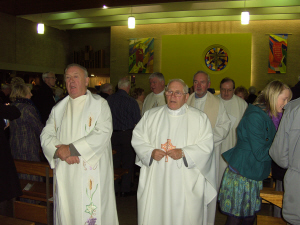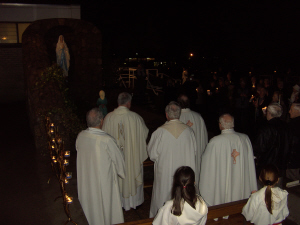 Additional Photos
A snow filled Grotto in February 2009

A view of the granite memorial seat which was constructed in January 2011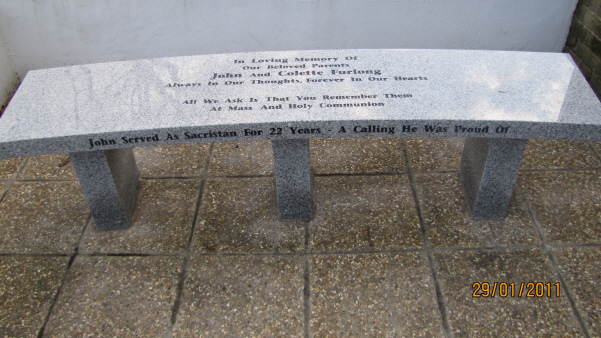 ---