Click ☰ above for more options ↑
Legion of Mary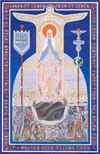 'Queen of the Most Holy Rosary' Praesidium, Ballinteer.


Legionaries are ordinary people who sometimes do extraordinary things. The Legion doesn't ask about your ability; it asks for your availability, your love, your service and a sense of humour.

Meetings every Tuesday at 7.30pm in the Conference Room.

Come as a guest to a Legion of Mary meeting! There's no obligation!
---