St.John the Evangelist Church, Ballinteer Avenue.
(Part of the Pastoral Area of Dundrum Ballinteer & Meadowbrook)
Céad Míle Fáilte>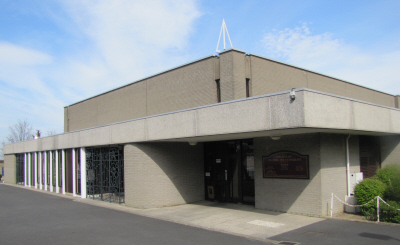 Parish Mission Statement
"I call you friends, because I have made known to you everything I have learned from my Father.
You did not choose me, no, I chose you; and I commissioned you to go out and to bear my fruit, fruit that will last; and then the Father will give you anything you ask him in my name. My command to you is to love one another."
Gospel of St. John the Evangelist Ch 15 Vs 15-17
Inspired by these words in the Gospel of St. John the Evangelist, Patron Saint of our Parish in Ballinteer, we strive to follow Jesus by:
Building a community which gives expression to our faith in Jesus where each person feels welcomed, accepted and valued in their own right.
Promoting a greater sense of togetherness and participation as we gather in our Church.
Spreading this togetherness in church out into our Parish Community in a way that is inclusive and all-embracing.
> Ballinteer families in preparation for WMOF
> World Meeting of Families 2018
Click on the Images below for details of Church Services:-
Getting Married
Parish Events
Church Services incl.
Baptism, Funerals
If you wish to contact the parish Office please click on the the "Email our Parish" logo below.
or if you have any queries or comments to make about our website please do not hesitate to contact us
as your comments are most welcome.

Click here to email website editor, Bernard Enright
Many thanks to Jimmy Finlay who edited this website for the last twenty years!
&nbsp &nbsp

---